Altitude: 3420m, temperature: -18?C, location: top of Europe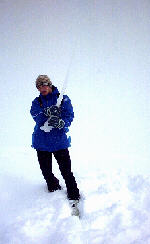 Yesterday I was skiing at Les Deux Alpes and it was just great. Not so much because of the skiing region but because of the powder snow. The view was very limited and I drove more on the sensations of my feet than on the sensations of my eyes. Cruising through the powder snow which reached up to the knees was just gigantic.

However, the ski slopes where not that unique. To be honest, I doubt whether it was worth making accessible the glacier. Destroying one of the Alp's last glacial regions seems a big price for some more ski-drivable weeks a year... I don't feel like abolishing skiing, I just wished alpine tourism would be sustainable.

Grenoble in my opinion has taken an important step: there are driving normally scheduled public-transit busses directly to the skiing regions in reach. So accessing the Alps by public transport, and only when it is skiing season is a part of sustainable tourism. Everbody can contribute his or her part to sustainability: ?to everything there is a season?, ecclesiastes 3:1-8. Der Umkehrschluss ist zul?ssig. (So in reverse). Sorry, I find no better way to express the same in English. Sometimes you just can't replace your mother tongue.